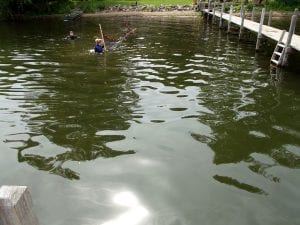 Salvage & Recovery
We have the experience and the resources available to handle any water related recovery's – large or small.
We also do recovery through the ice.

If you lost or dropped something in the lake and you want it back, we are able to recover most anything.

From wallets, to sunken boats, to vehicles and recreation vehicles by using our experienced divers that have been trained in search and recovery methods and using our side scan systems to aid in the search.

Summer or Winter Seasons – emergency call out available.
Tips: The minute you drop or lose something, take notice of your location and reference points or landmarks. A majority of the time when diving, we have zero visibility conditions, so the better the location description, the better chance of recovery. If the chances are low in making a recovery, we will be honest and tell you upfront.